Benefits of Document Storage Services in Ventura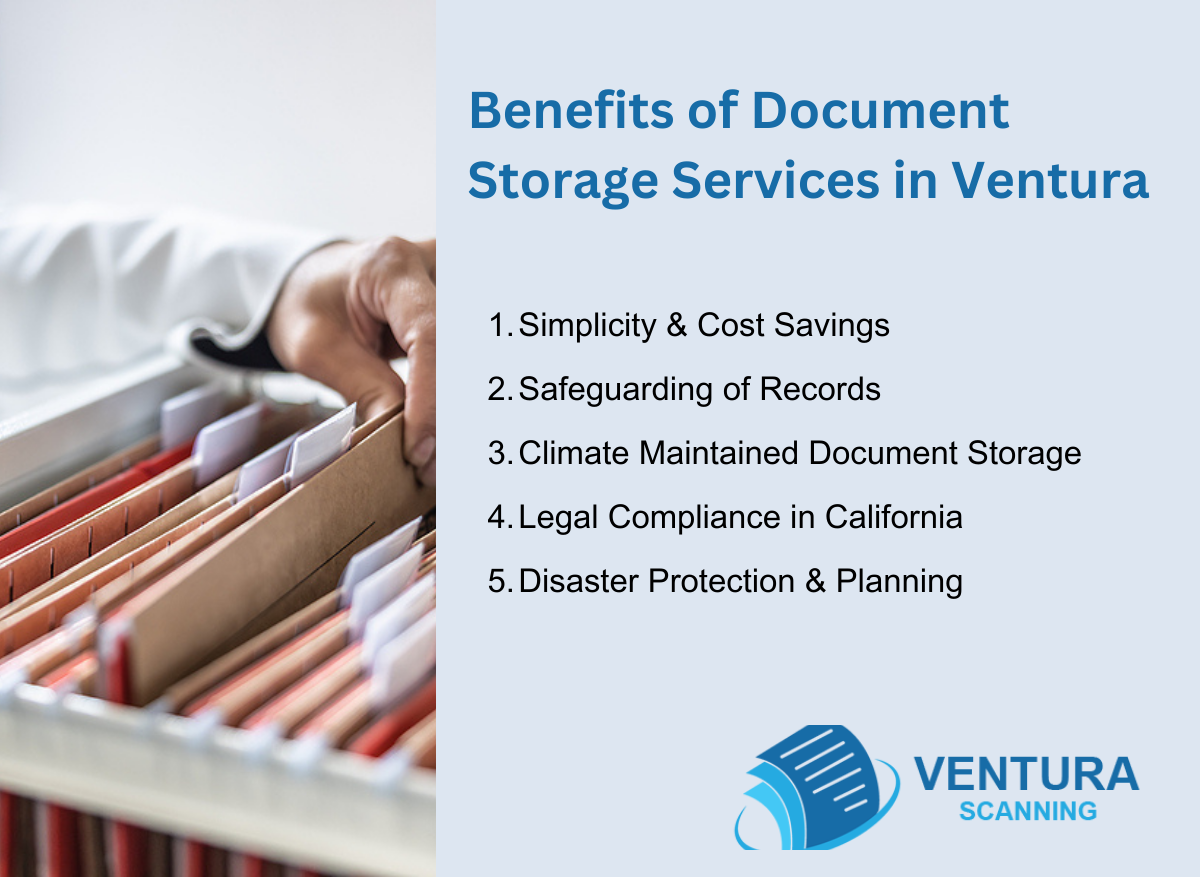 Simplicity & Cost Savings: Are you using expensive office space to maintain records and information? A records storage service can help your company save money by freeing up expensive office space.
Safeguarding of Records: The security and confidentiality of important records and files are easily overlooked. Companies across Ventura can quickly become swamped with efforts to comply with privacy requirements. Hiring a vendor simplifies security problems.
Climate Maintained Document Storage: We provide temperature and humidity controlled storage for all types of document formats. That includes paper, film, x-rays, microfilm, discs, and magnetic tapes. Our facility has backup generators in case of any power interruptions.
Legal Compliance in California: Many businesses keep large amounts of records, possibly needlessly. Other Ventura companies may not be keeping the correct documents. Document retention policies combined with document storage programs allow you to set up plans for which files to retain and for how long while also establishing how to dispose of records after they are no longer needed.
Disaster Protection & Planning: Natural disasters can destroy years of important business documents. Offsite records storage can protect your records from disasters. Ventura Document Scanning can prevent the destruction of your mission-critical records.
How Much Does Document Storage Cost in the Ventura Area
At Ventura Document Scanning, document storage services typically cost anywhere from 50–95 cents per box, per month. The pricing varies based on the size of your project and factors such as the type of documents, pickup and preparation work, and any additional security measures or document management solutions tailored to your business. For accurate pricing, give us a call, and we can connect you to a provider for a precise quote on your project.
Get Free Quotes on Document Storage Services in Ventura
We provide secure Ventura document storage and document retrieval services for businesses anywhere in Ventura and the surrounding area. To get free quotes on long-term document storage, give us a call at (805) 310-4867 or fill out the form.
Frequently Asked Questions
What is document storage, and why do I need it?
Document storage in Ventura involves securely storing physical or digital documents in a dedicated facility, aiming to free up office space, enhance organization, and ensure document security. It is particularly beneficial for businesses dealing with a substantial volume of paperwork, providing an efficient way to manage and access their documents.
Is document storage cost-effective in Ventura?
Yes, document storage is often more cost-effective than maintaining in-house storage solutions in Ventura. It allows businesses to allocate office space more efficiently and reduces the administrative burden associated with managing large volumes of documents. Additionally, the scalability of services means you only pay for the storage you need.
Can I store confidential or sensitive information?
Absolutely. Document storage providers in Ventura are equipped to handle confidential and sensitive information, implementing strict security measures to ensure the privacy and integrity of your documents.
How do I access my stored documents in Ventura?
Accessing your stored documents in Ventura is usually straightforward. For physical documents, a retrieval request process is typically in place, and many services offer scan-on-demand options. Digital documents are often accessible through secure online platforms with user-specific login credentials.
What types of documents can be stored in Ventura?
Document storage services in Ventura accommodate a wide range of documents, including legal papers, financial records, employee files, medical records, and more. Both physical and digital formats can be stored, offering flexibility based on your business needs.